---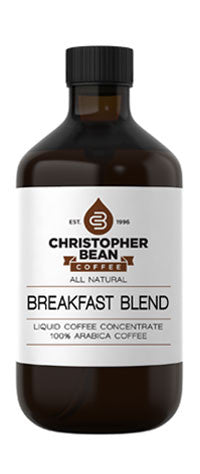 Breakfast Blend Cold Brew Or Hot Liquid Coffee Concentrate (96 servings)
---
Christopher Bean Coffee™ Brand Liquid Coffee Concentrate.
Greet your mornings with a cup of coffee that's bright and light. Christopher Bean's Breakfast Blend is mild, light-bodied, and highly aromatic - ideal for waking up your senses in the morning.
This is a one of a kind high yield coffee concentrate product.  Can be used for cold brew iced coffee or a steamy cup of hot coffee.  It only takes 1 teaspoon (5ml) to make a cup of delicious hot or iced coffee.  
Yield in cups of brewed Or Iced Coffee.
4 ounce bottle = 24 Servings
8 ounce bottle = 84 Servings
16 ounce bottle = 96 Servings
64 ounce bag in box = 4,416 ounces of brewed coffee
Our Liquid Coffee Concentrate is processed by using a small batch roasting method infused with strictly high grown 100% Arabica coffee beans.  You will find our concentrates to provide A hearty coffee flavor with a silky smooth aftertaste.
Money Back Guarantee - If you are not 100% satisfied with our product we will gladly refund your purchase.
Make Iced Coffee In Minutes. 
Fill a 16 once glass full with ice

Add any type of milk, almond milk, soy milk

Add 1-2 Teaspoons of coffee concentrate to taste

Add sweetener

Mix
Cost per serving is approximately .31 cents per cup of hot or iced coffee.
There are many advantages to Liquid Coffee Concentrate over traditional coffee making:
Less Labor No Brewing Or Preparation Time
Less Waste No Coffee Filters
Delivers Consistency In Every Cup
Instant Delivery 24/7 By the Cup or By the Gallon
Adjustable Product Strength
All Natural With No Added Preservatives Or Fillers
Shelf-Stable For Six Months
Packed in 1/2 Gallon and Gallon B.I.B.(Bag In The Box) 4 ounce bottle, 8 ounce bottle, 16 ounce bottle.
All of our Liquid Coffee Concentrate products are Kosher and Pareve Certified.  
Need to make coffee quick?  Just Add one (1oz ) of Liquid Coffee Concentrate to 64oz hot water. Instantly makes (1) 64 oz pot of delicious coffee. Add more or less water to achieve desired strength. No coffee brewer required.
Yield in ounces of brewed coffee.
4 ounce bottle = 276 ounces of brewed coffee
8 ounce bottle = 512 ounces or brewed coffee
16 ounce bottle = 1104 ounces of brewed coffee
64 ounce bag in box = 4,416 ounces of brewed coffee
Coffee Concentrate For Home Use At Work Or At Play